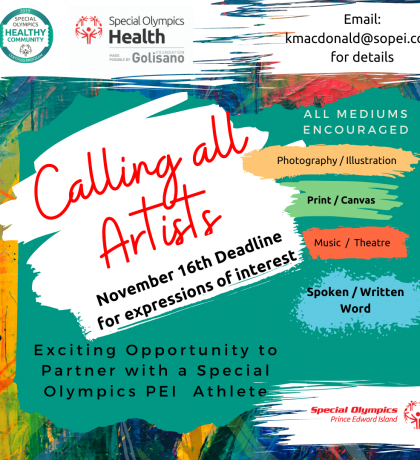 Seeking Artists!
Expression of Interest
If interested, please contact Kristen at kmacdonald@sopei.com by November 16, 2020 for more details.
We are looking for artists (ie. music, illustration, photography, spoken word, poetry, theatre, singing) to help us share the stories of struggles and successes on the health and well-being of individuals with intellectual disabilities across PEI.
We are open to the many ways this can occur:
By partnering you with a Special Olympics athlete and working with them to create a piece of art together

Listening to the stories of Special Olympics athletes and creating a piece about them

Maybe you want to provide a series of classes to help athletes learn skills for them to tell their story with your medium.
We have an event in the works for late February/early March to celebrate and educate PEI, while bringing together arts with sport and wellness to enrich the lives of individuals with an intellectual disability!
The finished piece would be due by February 1, 2021.