This year our awards went vitural all month long!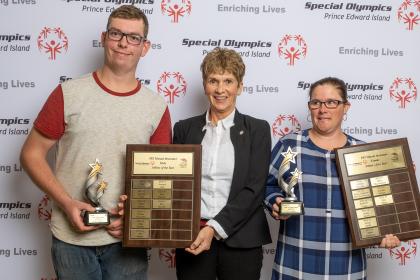 Special Olympics PEI Awards
Each year Special Olympics Prince Edward Island hosts and Awards Presentation to honor coaches, athletes, volunteers and supporters for their contributions and successes during the past program year. Due to the Covid-19 pandemic we will not be able to host an event this year, but we still want to celebrate!
October is going to be awards month because #championslivehere!
All month long we will be celebrating our athletes, coaches, volunteers, parents and caregivers who commit so much of their time to our organization.
Be sure to follow our social media pages as we will be listing our Years of Service recipients, nominees and winners on all platforms.
---
2019-2020 Awards Recipients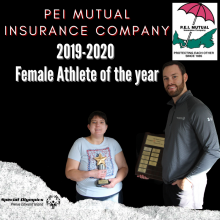 PEI Mutual Insurance Company Female Athlete of the Year
Nominees : Lisa Bernard, Jennifer MacGuigan, Christi-Joe Snyders-Couchman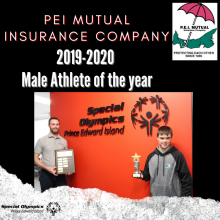 PEI Mutual Insurance Company Male Athlete of the Year
Nominees: Nathan Irwin, Jordan Koughan, Tommy Ling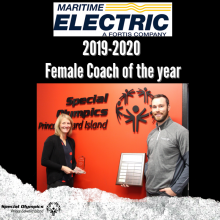 Maritime Electric Female Coach of the Year
Nominees: Fran Gillis, Kristen MacDonald, Nancy MacPhee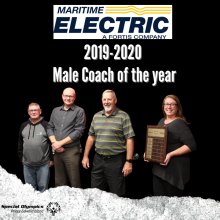 Maritime Electric Male Coach of the Year
Nominees: Team PEI Floor Hockey Coaches (CY Holland, Peter Howatt, Rickey Burns), Dave Morrow, Gie Rogers
Facility of the Year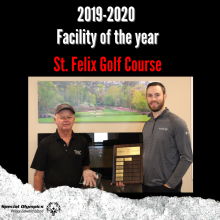 David Andrew Memorial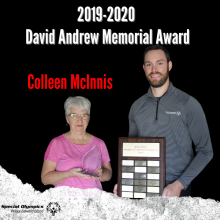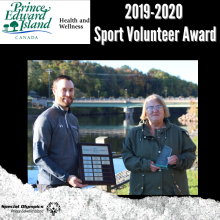 Department of Health and Wellness Sport Volunteer
Nominees: Kieran Goodwin, Donna Maloney, Louis Shea
President's Award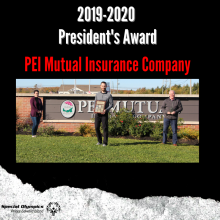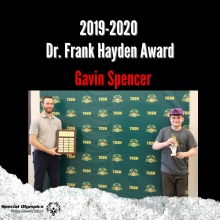 Dr. Frank Hayden Award
Nominees: Patrick Cronin, Bethany Mooney, Gavin Spencer
ADL Spirit Award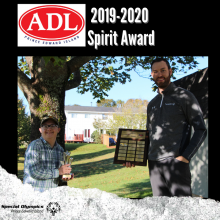 Nominees: Glendon Arsenault, Sarah Halman, Colton Matheson
Volunteer Pins
Volunteers who have contributed 10, 15 and 20 years of service to the Special Olympics movement are also honored:
5 Years
Rob Horne, Evelyn MacLure, Kathleen MacNearney, Caitlin McKenna, Laurie McNally, Dr. Joanne Reid
10 Years
15 Years
Judy Gallant, Steve Loggie, Garth Perry, Sue Skeffington, Allan Stewart, Kevin Stonefield, Cecil Villard
20 Years
25 Years
---
Recognition at the National Level
Special Olympics PEI athletes and volunteers have been recognized on a national level by Special Olympics Canada (SOC). We are very proud of our national award winners:
2019 Dr. Frank Hayden Lifetime Achievement Award
2018 SOC Female Athlete of the Year
2017 Frank Selke Fundraising Volunteer of the Year
2015 SOC Female Coach of the Year
2013 SOC Female Athlete of the Year
2012 SOC Team of the Year
2011 SOC Female Athlete of the Year
2011 SOC Team of the Year
2008 Jim Thompson Award
2005 SOC Team of the Year
PEI Stars Floor Hockey Team
2004 SOC Team of the Year
2002 Jim Thompson Award
2000 SOC Female Athlete of the Year