Being healthy is about more than just being physically active. Special Olympics offers Healthy Athletes clinics and screenings to help further enrich the lives of our athletes.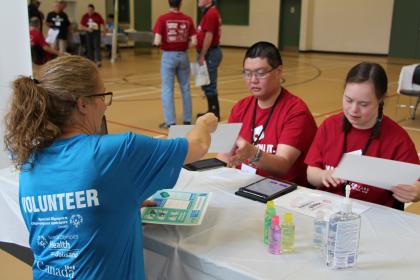 Health has a substantial impact on the quality of life for people with an intellectual disability and affects each Special Olympics athlete's ability to train and compete in sports effectively. Despite severe need and higher health risks, people with an intellectual disability are denied health services, have limited access to community health interventions, and experience a lack of targeted health interventions and programs. There is often a misconception that the poor health of people with an intellectual disability is unavoidable because it is an inherent part of their disability; yet research has shown that it is in fact a result of a breakdown in health education, health promotion, and health care that can and should be addressed.
The Healthy Athletes program is dedicated to providing health services and education to Special Olympics athletes, and changing the way health systems interact with people with intellectual disabilities. All screenings are free to the athletes and occur throughout the year.
The Healthy Athletes initiative is a health screening and education program designed for people with Intellectual Disabilities. Screenings are offered in eight disciplines and are administered by volunteer health care providers throughout the year. Launched in 1997, Healthy Athletes has made Special Olympics the largest health care provider for people with Intellectual Disabilities in the world.
Learn more about the eight screening disciplines:
If you would like more information or are interested in supporting this program on PEI, please contact our office by calling 902-368-8919.