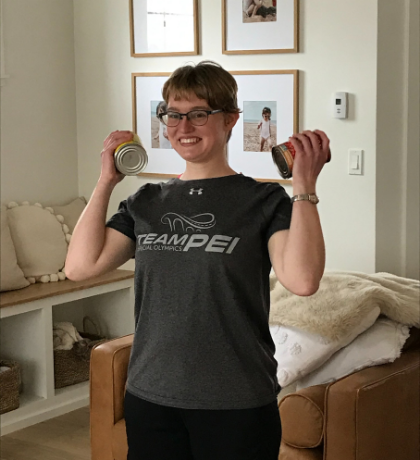 Special Olympics PEI recently launched a Wellness Champion program! This at-home program supports Islanders with an intellectual disability during COVID-19 restrictions. 
While approximately 90% of Special Olympics PEI's in-person programs are up and running again, only approximately 35% of athletes are back attending in-person programs. To bridge that gap, and ensure that athletes who are either unable, or not ready, to attend programs in-person, Special Olympics PEI has made a strong push for virtual programming options, including the Wellness Champion program. 
The Wellness Champion program has four pillars related to wellness that allow for a variety of fun activities. Athletes can join individually from home, with a support worker and/or be connected to a volunteer weekly to identify and support activities for the week. Athletes who attend a day service program can join the Team program and be guided through activities with support workers and friends.
Learn more about Special Olympics PEI's Wellness Champion program. 
Health Messengers
Special Olympics PEI is proud to have 5 dedicated Athlete Leadership Academy members who have completed the Health Messenger training. The Health Messenger Workshop empowers Special Olympics Athletes to develop healthy lifestyles, influence other athletes to lead healthier lives, advocate within their communities for inclusion around health and wellness services, education and resources, and advocate for the health needs of people with an intellectual disability. Health Messengers choose a focus area and serve as health and wellness leaders, educators, advocates, and role models.
Our 5 Health Messengers, Heidi, Ellen, Cameron, Lisa and Janet want to inspire, educate and support you with simple health and wellness messages.

Register Today to Become a Wellness Champion
The first step to registering is to completed Special Olympics PEI's 2020-21 registration form. You will need to submit this to be eligible to participate. For more information please contact the Special Olympics PEI office, either by calling 902-368-8919 or via email at sopei@sopei.com
We wish to acknowledge and thank the funding partners who helped make this program possible.