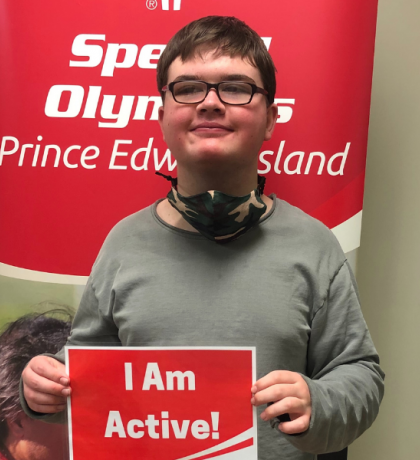 Liam Currie has recently returned to play with Special Olympics PEI! It was Charlottetown Community Sport's Floor Curl module, something new for the program, that encouraged Liam to get back to in-person programs.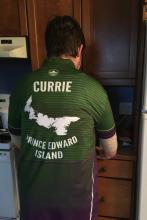 Liam has been an athlete with Special Olympics PEI for 5 years. The 15 year old junior high student from Stratford started with the Charlottetown FUNdamentals programs when he was 10 years old. Liam then joined the new Charlottetown Youth Multi Sport program when it was launched in the fall of 2016. Now Liam is participating in the Charlottetown Community Sport program, and Floor Curl is the reason. Liam loves curling, a sport to which he has a strong family connection. Liam's uncle, whom he very much looks up to, represented PEI at the 2020 Brier. Liam even wore his uncle's Team PEI Brier jersey to the first night of Floor Curl.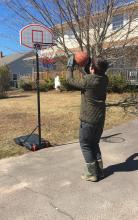 Back in March of 2020, at the beginning of the pandemic, Liam's mother, Tara, an Educational Assistant, had a feeling that students might not be returning to school following March Break. To this end, Tara implement school at home from the first day of March Break. Tara kept Liam and his sister busy with daily homework, life-skills and recess. With the arrival of spring the family's afternoons were spent outdoors gardening at Liam's grandmother's house.
While Special Olympics PEI programs were paused Liam missed participating. He took advantage of virtual opportunities to stay connected and stayed active. He did at home virtual workouts, and during the summer he took golf lessons and participated in an adventure club. 
Special Olympics PEI currently has approximately 90% of programs back up and running. With approximately 35% of athletes back at in-person programs, Special Olympics PEI launched the question - Are You Active? Liam answered "Yes"!
Return to Play Options
In-Person Programs
In-person programs are back up and running across PEI. Read more about Return to Play. 
Virtual Programs
Special Olympics PEI's at-home Wellness Champion program was launched to support athletes who are unable to attend in-person programs during COVID-19 restrictions. Read more about the Wellness Champions program. 
Sign-Up Today
Contact the Special Olympics PEI office to sign up today, either via email at sopei@sopei.com or by calling 902-368-8919.