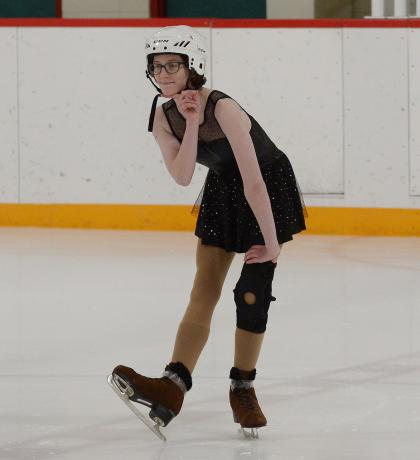 The 2020 BC Winter Games in Fort St. John were a huge success, where Special Olympics BC figure skaters and speed skaters from all over the province showed their skills in this significant competition!  
SOBC – Surrey's Deborah Carter was the Head Coach for the Special Olympics speed skaters at the 2020 BC Winter Games. Prior to competition she felt the team was looking very strong, with everyone showing an excellent work ethic and confidence in their abilities. Carter said the athletes "added a weekly 30-minute dryland session… [focusing on] endurance, core strength, and speed" in preparation for the recently added 1000m speed skating event.  
This was the first Special Olympics speed skating event at the BC Games and the athletes did extremely well, coming home with some well-deserved hardware complete with smiles and fantastic memories. The additional training seemed to pay off as the speed skating team posted an impressive 38 personal bests, 10 gold medals, 10 silver medals, and five bronze medals.  
There will always be challenges with athletes adapting to new routines, but they showed incredible focus and determination, and gelled as a team. By the end of the Games, the athlete/coach bond became seamless.  
"It was truly a wonderful experience getting to know the athletes," Carter said.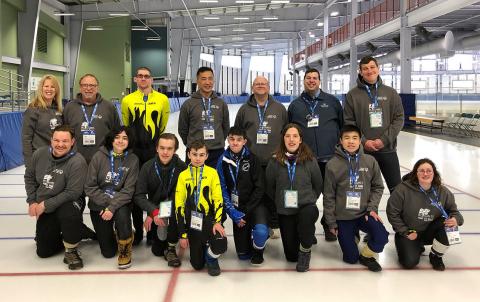 The figure skaters were also primed and ready to perform, with athletes converging from Abbotsford, Fort St. John, Port Alberni, Vancouver, and Victoria to compete and showcase their talents. Figure skating Head Coach Kailee Bowman from SOBC – Victoria said, "One athlete in particular was so beyond excited, she was calling it a once-in-a-lifetime opportunity!"  
Port Alberni's figure skater Kari Trott shared the same excitement heading into the Games. "I would message my sister everyday saying how many days were left. I felt prepared after practicing four days a week."  
Figure skater Alexander Bell from SOBC – Port Alberni managed to harness his nerves for day 1 of competition and push through with confidence. Bell displayed what it means to be a part of Special Olympics, saying his "goal for the Games is to improve. If you don't improve and just want to win … well you can't. If you're bad at something, it's just an opportunity, not a barrier."
The Games provided Special Olympics athletes with a chance to compete and showcase their talents in front of their peers on the provincial stage. They also presented an opportunity to spread awareness, develop friendships, and highlight the inspiring spirit of the Special Olympics community.  
Carter acknowledged the warm welcome from event organizers and generic athletes alike, saying they "were giving our athletes high-fives before and after events, on buses, and sitting with our athletes on the dance floor having conversations with them about their competition. This was inclusion at its best."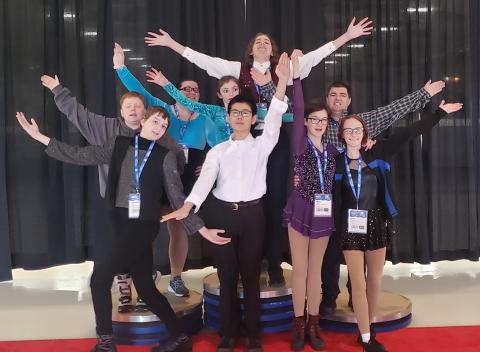 Trott echoed the social value of these Games.  
"They were amazing. I met a lot of cool new people that I'll forever have memories with, and I also got to reunite with someone who I met at Canada Games last year in Red Deer," she said.  
It was an amazing opportunity to open the hearts and minds of people across the province to the incredible abilities of Special Olympics athletes.  
"The added exposure of our athletes, and the fact they contributed significantly to the total medal count, really raised a few eyebrows with both athletes and coaches," Carter said.  
Please click here to watch a video recap of the BC Games experience for the SOBC speed skaters, compiled by SOBC – Vancouver coach Stanley Chang.
These BC Games are distinct from Special Olympics BC Games, which are our Provincial Games hosted by SOBC solely for SOBC athletes. SOBC athletes have been showcasing their skills in the generic BC Games for 17 years, competing in Special Olympics divisions.
You can find results from the Games here.  
Complete Special Olympics BC roster for the 2020 BC Games:
| | | | | |
| --- | --- | --- | --- | --- |
| ZONE | NAME | ROLE | SOBC LOCAL | SPORT |
| Zone 4 | Chassetty Berkowski | Athlete | Coquitlam | Speed Skating |
| Zone 8 | Gabby McGillvray | Athlete | Dawson Creek | Speed Skating |
| Zone 8 | Kianna Sherk | Athlete | Dawson Creek | Speed Skating |
| Zone 4 | Bradley Laforce | Athlete | Coquitlam | Speed Skating |
| Zone 4 | Johnathan Berkowski | Athlete | Coquitlam | Speed Skating |
| Zone 4 | Sean Casey | Athlete | Coquitlam | Speed Skating |
| Zone 8 | Quin Rude | Athlete | Dawson Creek | Speed Skating |
| Zone 8 | Michael Ryder | Athlete | Dawson Creek | Speed Skating |
| Zone 5 | Trevor Chang | Athlete | Vancouver | Speed Skating |
| Zone 6 | Mark Hamblett  | Athlete | Victoria | Speed Skating |
|   | Keith McKeeman | Coach | Dawson Creek | Speed Skating |
|   | Stanley Chang | Coach | Vancouver | Speed Skating |
|   | Deborah Carter | Head Coach | Surrey | Speed Skating |
|   | Raistlin Van Spronsen | Junior Coach | Dawson Creek | Speed Skating |
| Zone 4 | Kalya Polege | Athlete | Surrey | Figure Skating |
| Zone 8 | Kaleigh Byford | Athlete | Fort St John | Figure Skating |
| Zone 4 | Hillary Birkett | Athlete | Surrey | Figure Skating |
| Zone 6 | Kari Trott | Athlete | Port Alberni | Figure Skating |
| Zone 6 | Lucas Bell | Athlete | Port Alberni | Figure Skating |
| Zone 6 | Matt MacDonald | Athlete | Port Alberni | Figure Skating |
| Zone 6 | Alexander Bell | Athlete | Port Alberni | Figure Skating |
| Zone 5 | Anthony Lu | Athlete | Vancouver | Figure Skating |
| Zone 3 | Katie Marchbank | Athlete | Abbotsford | Figure Skating |
|   | Soraya Bellou | Coach | Abbotsford | Figure Skating |
|   | Amanda Thomas | Coach | Fort St John | Figure Skating |
|   | Kailee Bowman  | Head Coach | Victoria | Figure Skating |