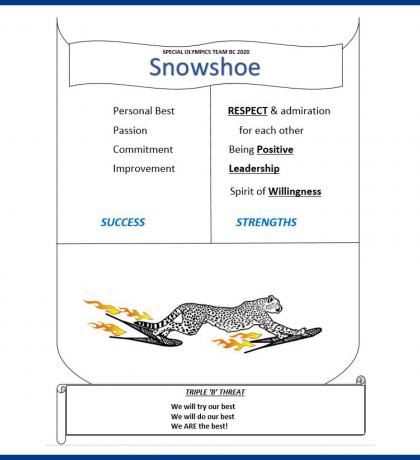 We are spending the eight weeks leading into the 2020 Special Olympics Canada Winter Games introducing the inspiring members of the Special Olympics Team BC 2020 Training Squad, one sport per week!
SO Team BC 2020 has 13 tremendous snowshoeing athletes from SOBC – Burnaby, Campbell River, Coquitlam, Kelowna, Smithers, Vernon, and Williams Lake, supported by five fantastic coaches from SOBC – Burnaby, Campbell River, Kelowna, Smithers, and Vernon.
The snowshoeing team has many competitors who are making their first National Games appearance for snowshoeing but have reached the national stage before in other sports. The team also includes veterans such as Paul Aubuchon of SOBC – Campbell River, who will be competing in his third National Games for snowshoeing (and sixth National Games overall) in his 31 years as a Special Olympics athlete.
This team has bonded and developed a deep-rooted family feeling. This has been built on their shared feelings of "respect, support, hard work, acceptance, and love for life and sport," as coach Janny Jung says. And not only does the team feel like a family, it also has several members who are literally family: father/coach David Wilkinson and son/athlete Tony, mother/coach Sandra Schuffert and son/athlete Torben, and mom/coach Liz Little and daughter/athlete Katie. (Team BC is fortunate to have a THIRD member of the Wilkinson family involved too – curling coach Ty, Tony's brother!) 
Our Team BC 2020 Training Squad snowshoers describe themselves as brave, fun loving, kind, friendly, excited, energetic, determined, independent, bright eyed, helpful, outgoing, and people of integrity!
Team motto
We will try our best - we will do our best - we ARE the best!
Team goals
We believe that we will show respect by showing our good hearts through kindness.
We show our commitment to our team through our passion for snowshoeing and empowering each other to do our best.
Team member profiles