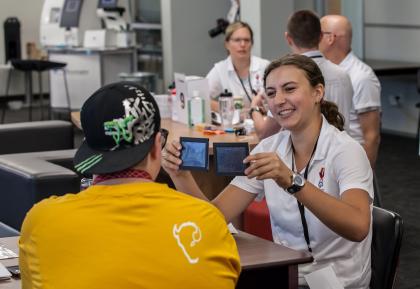 Being healthy is more than just being physically active. Special Olympics Canada and all local Chapters offer free health screenings for all athletes. These exams are overseen by Special Olympics to ensure global consistency.
Exams identify health areas that might need further attention. These can include:
Because of these screenings, Special Olympics has become the largest global health organization dedicated to serving people with an intellectual disability.
For more information on these screenings, contact your local Chapter.
Healthy Communities
Healthy Communities is a model Special Olympics Health program made possible by the Golisano Foundation. The program addresses the severe health disparities faced by people with intellectual disabilities through immediate and long-term solutions. 
A Healthy Community is a location officially by recognized by Special Olympics for efforts in creating year-round access to quality health care. 
Through partnerships, fitness and wellness programs, as well as robust Healthy Athletes programming, dozens of Special Olympics locations throughout the world are paving the way for inclusive health. 
Special Olympics has set a goal of having 100 locations recognized as Healthy Communities by 2020.
Begun in 2016, the Golisano Health Leadership Award honors those who fulfill the goals, values, and mission of Special Olympics health programs. The award is named for the Golisano Foundation, which makes Special Olympics Health possible worldwide. It is the highest Special Olympics honor for health partners.
For an overview on Healthy Communities, click here.
*Please note, Healthy Communities is not currently offered by all Special Olympics Chapters in Canada.