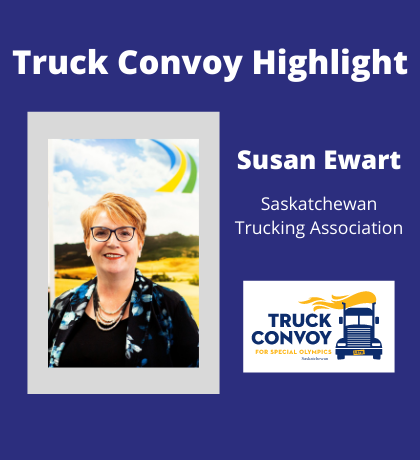 With the 14th Annual Truck Convoy for Special Olympics Saskatchewan only days away, we want to take this time to introduce you to some longtime supporters of the event!
Get to know Susan Ewart from Saskatchewan Trucking Association (STA) as our first Truck Convoy Highlight!!
How long has STA been participating in the Truck Convoy?
"The STA has been supporting the Truck Convoy for many years. I joined the organization in 2016 and we have increased our participation in the event since then. We even put in a team in the Truck Pull in 2019. it was a lot of fun!"
Why does the STA participate in the Truck Convoy?
"It is a chance for the Trucking industry to show that it supports and gives back to our communities in meaningful ways. Supporting special olympics saskatchewan gives me a lot of pride in knowing that we care about each other and that the trucking industry has an opportunity to shine. the people working in the industry are very committed to supporting special olympics."
What is a memory that stands out from participating in the Truck Convoy?
"for me it was assisting in judging the truck pull. it was so much fun to see the young people from special olympics saskatchewan pulling those trucks and competing. they are fierce competitors."
Why do you think other truck drivers and truck companies should get involved in the Truck Convoy?
"I know they take a tremendous amount of pride in the "Big rigs", and it is an opportunity to help raise funds for a worthwhile cause and generally just have some fun!"
Thank you Susan and everyone at the STA for the support in our Truck Convoy! With your help we are able to deliver programs to over 1,500 athletes in the province with little to no cost!