Experience the Power of Sport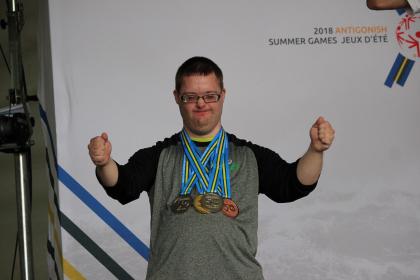 Join Us - As an Athlete or a Volunteer
On behalf of Special Olympics PEI, thank you for your interest, and welcome to our organization!
For 50 years, Special Olympics has enriched the lives of Canadians with an intellectual disability – of all ages and skill levels – through the transformative power of sport.
Thousands of volunteers, coaches and officials across the country provide high-quality programming and services to Special Olympics athletes from age two to 70-plus, at both the recreational/community and competitive level. 
Registration Information - Athletes
Through Special Olympics PEI, hundreds of individuals with an intellectual disability have found acceptance, made lasting friendships and built confidence. In sport. And in life. 
To register, please CLICK HERE for updated Registration Processes and Resources. The annual $20 fee will be waived for all participants for the 2020-21 program year. There may be and additional fee for Ice Sports ($75/sport) and Bowling (Weekly Lane Fees). If you have any questions or concerns, or if you would like additional information, please call the Special Olympics PEI office at 902-368-8919 or email sopei@sopei.com.
Find out more about becoming a Special Olympics athlete:
Registration Information - Volunteers
Special Olympics PEI offers many volunteer positions to suit all individuals. If you have a love of sport and helping others, then we have something for you. To learn more about these opportunities, please visit our Volunteer Roles and Coaching Roles pages.
If you are interested in volunteering with Special Olympics PEI, the first step is to register, please CLICK HERE for updated Registration Processes and Resources.