The 2020 Special Olympics Saskatchewan SaskTel Awards Banquet will be held in conjunction with the SOS Annual General Meeting in September 2020 (specific date and location to be announced at a later date)
Nominations are now being accepted for the following Awards:
Team of the Year

Coach of the Year

Jr. Coach/Volunteer of the Year

 Athlete of the Year

Volunteer of the Year

Unsung Hero Award

Shining Star Award

Honorary Life Member

Athlete Lifetime Dedication Award

Bob Pedde Memorial Award

LETR Outstanding Service Award
NOMINATION DEADLINE: JUne 30th, 2020
Please click here to view the online nomination forms. If you have any questions about the nomination process, contact Jaret Dezotell @ jdezotell@specialolympics.sk.ca or 306-780-9450.
The Special Olympics Saskatchewan SaskTel Awards Banquet was held in conjunction with the 2019 Special Olympics Saskatchewan Membership Meetings and AGM. Special Olympics Saskatchewan awards are an exciting and important way to highlight the hard work and dedication of our athletes, volunteers, coaches, and sponsors. We are so proud of all the hard work and dedication put forward from each one of our nominees. Check out all the photos from our Award Banquet here. 
2018-2019 Provincial Award Winners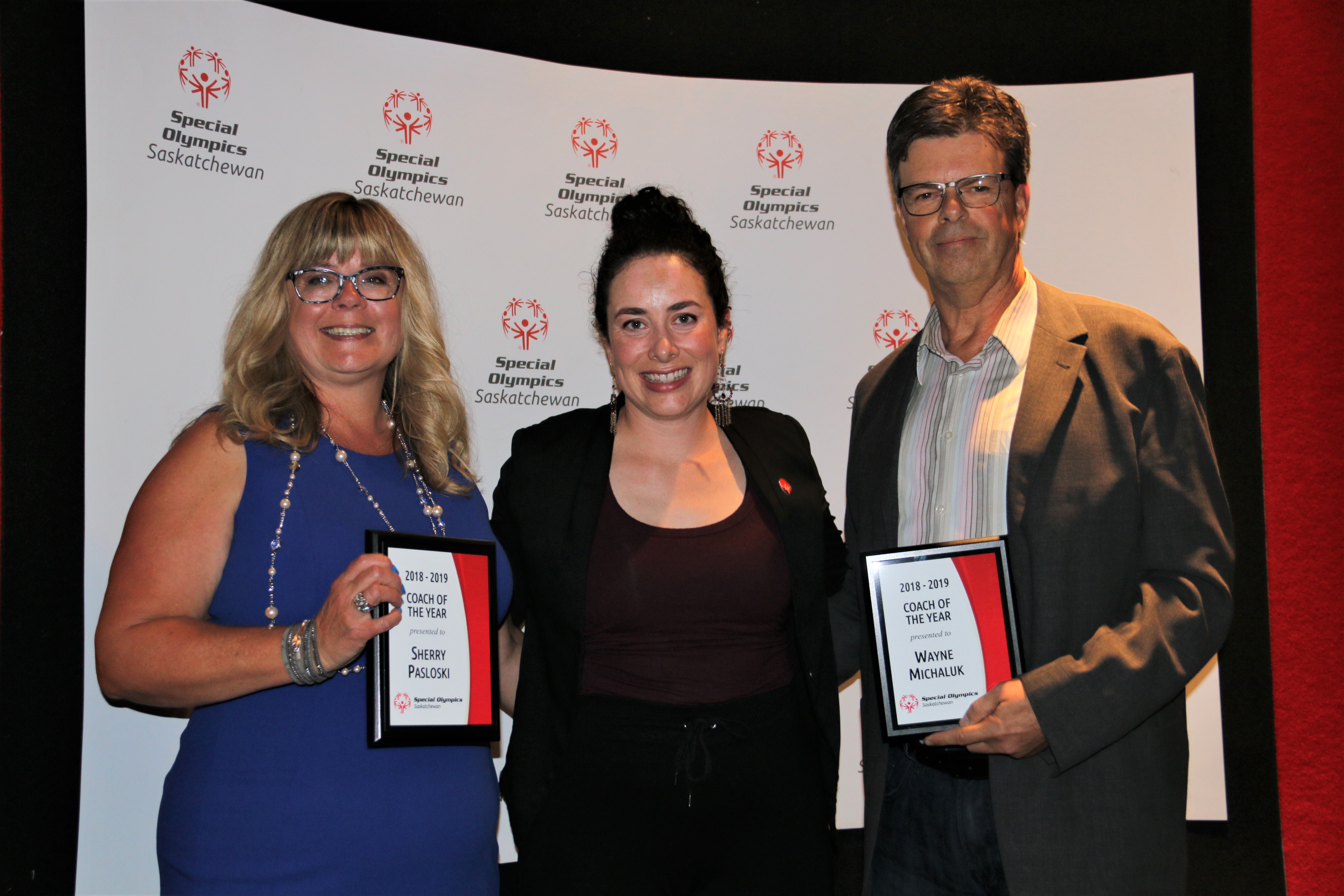 Coaches of the Year
Sherry Pasloski (Yorkton) & Wayne Michaluk (Regina)
Sherry is a 'Jack of all Trades' when it comes to Special Olympics. She currently sits on the Board of Directors for the Special Olympics Yorkton and District Community, of which she has upheld the position of secretary the past 5 years. She is a key asset in keeping the group operating at a high level. 

Sherry is the head coach for the Yorkton Bocce Program and also helps coach the 5-Pin Bowlers on a weekly basis. In addition, she has been a driver in the development of the Snowshoeing program and also volunteers with the Yorkton Storm Swim Club, which has now integrated our swimming athletes into their mainstream programs. 
Wayne has been involved with curling as a coach since 2004, when his daughters were participants in the Curl for Kids program running out of the Highland Curling Club. From there, he coached them through a total of 7 Provincial competitions. At one of the Provincial Competitions, he was also voted "Coach of the Year" for his professionalism and sportsmanship.

He also coached a team in the Provincial Winter Games in 2010 and 2011. 
Wayne was the Sports Tec for the Special Olympics Winter Games for the sport of curling in 2014. In the 2019 Winter games, Wayne coached the team to a silver medal.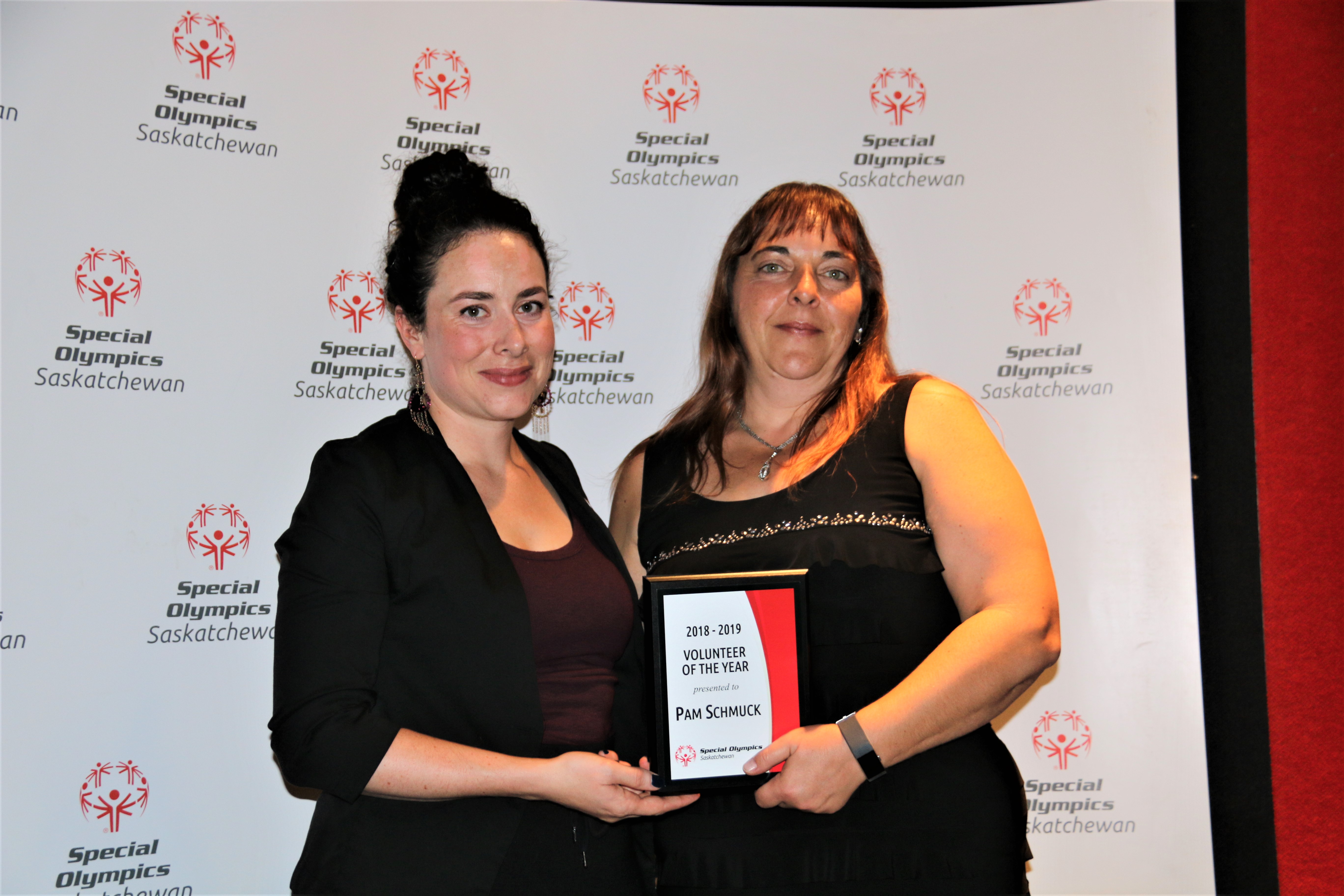 Volunteer of the Year
Pam Schmuck (Yorkton)
Pam is an active member of the Special Olympics Yorkton Board of Directors and is a representative on the Provincial SAC Committee. She believes strongly in Special Olympics and the inclusion of our athletes into the community wherever possible. She is now involved with getting as many of our athletes as possible, involved in the collaboration with          Anytime Fitness, where our athletes now receive free membership for the year. She goes to the gym herself, not to coach the athletes, but to simply be there to give them encouragement as they work with the other fitness instructors. She attends Bocce and Bowling nearly every week, assisting where needed and giving encouragement to our athletes. Her upbeat personality makes all the practices a happy place for coaches, volunteers, and athletes.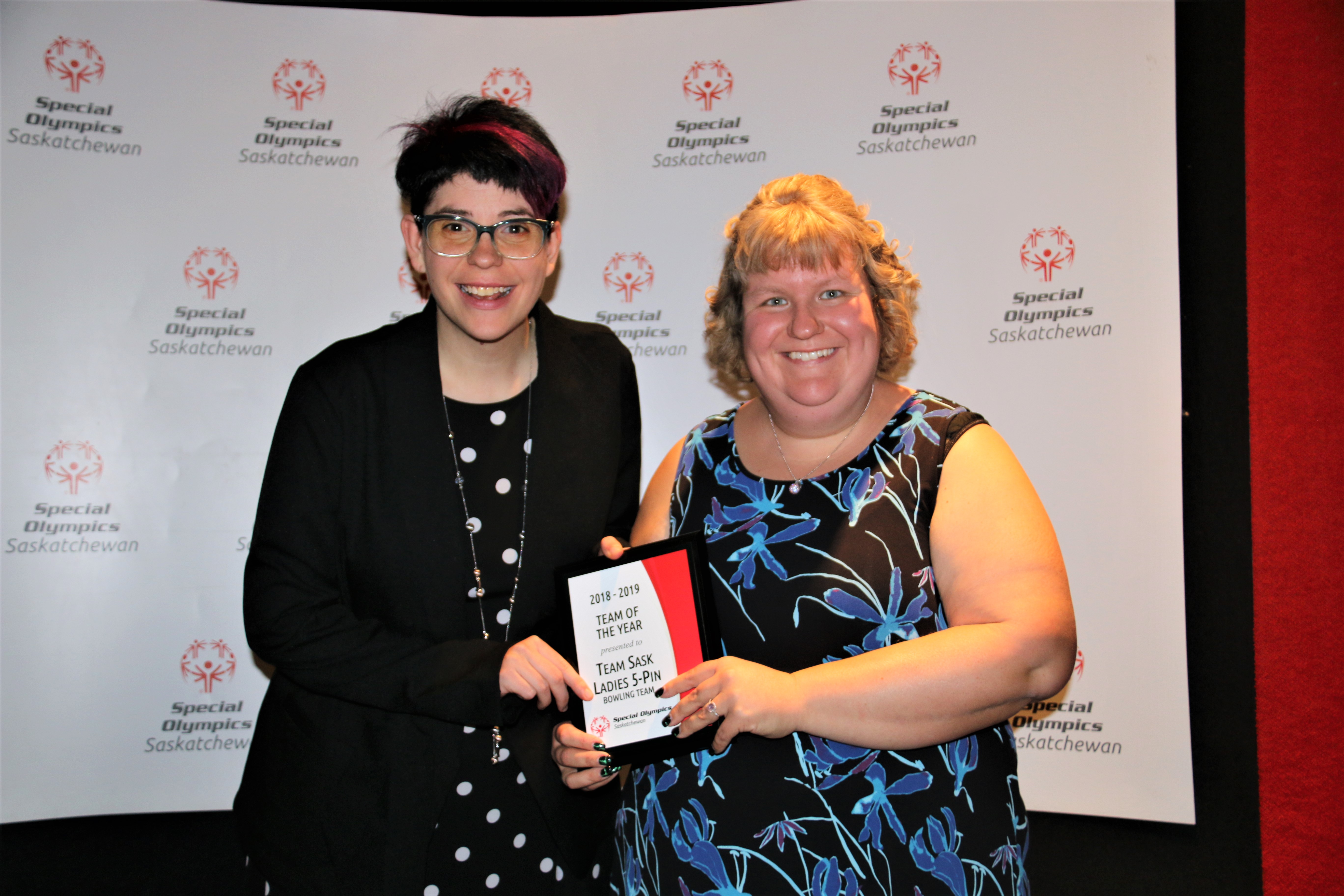 Team of the Year
Ladies Team Sask 5 Pin Bowling - (Combination Team: Regina; Saskatoon; Meadow Lake)
The Ladies Team Sask 5-Pin Bowling Team consists of Candace Bates, Lindsay Markwart, Bree Warsaba, Renee Scherr, Pam Mcgee, and coach Rhonda Penno. They are kind and caring individuals and celebrate the other athletes in their personal achievements and successes. They have a very strong sense of community ingrained in their bones and are strong advocates for people with intellectual disabilities and Special Olympics.

Each individual is an asset and offers so much to the team. These ladies each hold an essential place on the team and are celebrated for their different personalities, qualities, and skills that represent and define who they are.

Each member of the group is a role model, a mentor, friend, and a leader in both Special Olympics and in their home communities. They are ambassadors for our organization across the province and show no signs of changing that. They take pride in being a part of Special Olympics and promote how the programs and sport have changed their lives for the better. One can visibly see that through their dedication and all of their efforts of 'just being themselves' – they are creating a more inclusive, accepting, and celebratory environment for people with intellectual disabilities.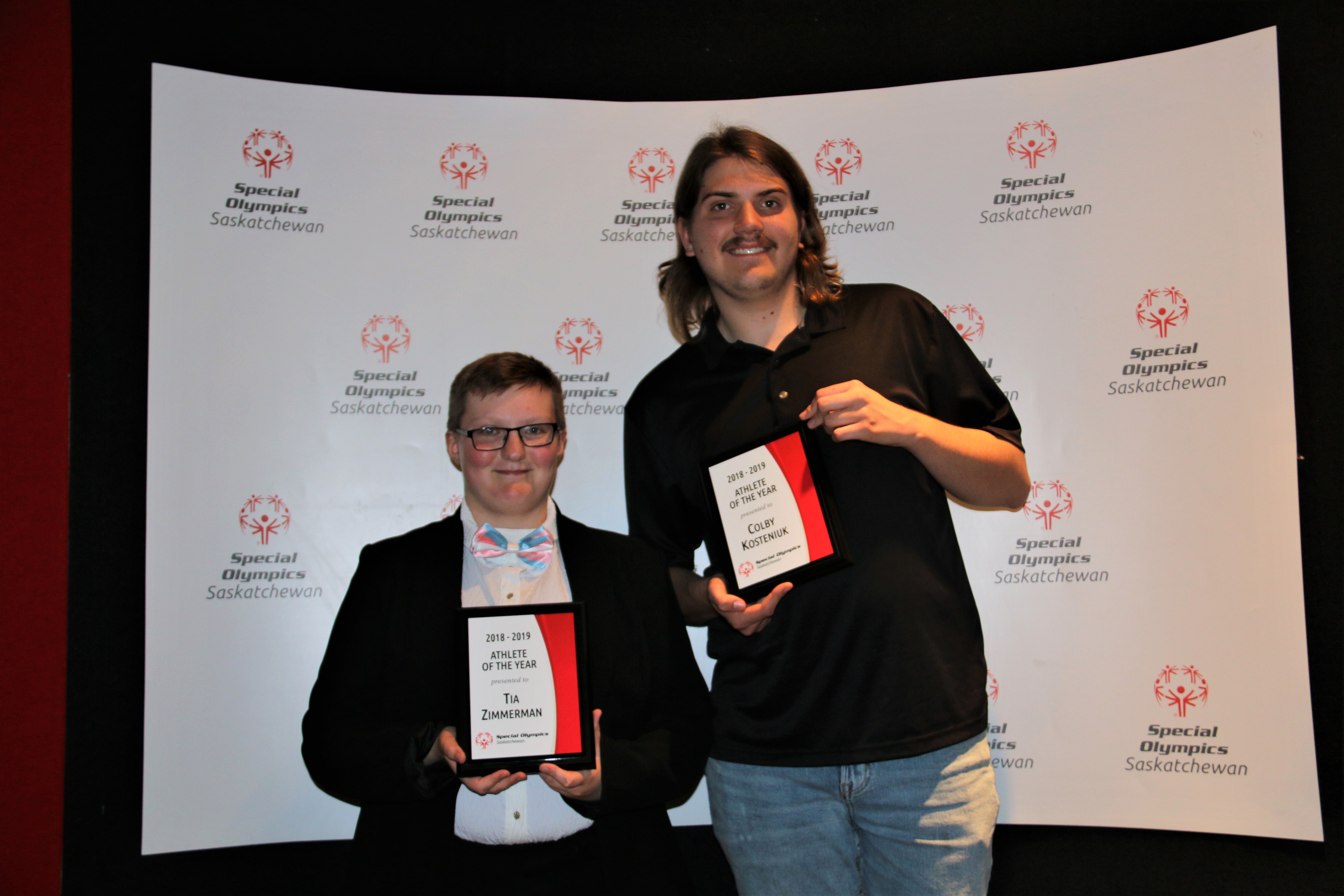 Athletes of the Year
Colby Kosteniuk (Regina) & Tia Zimmerman (Humboldt)
Colby will always tell everyone that: 'Swimming is where he found his niche, and when he joined Special Olympics, his confidence'. This is also how he explained his Games experiences, in simply looking at it as a new beginning, opportunity, and privilege to be a part of. He is a true ambassador for Special Olympics. He promotes what the programs have done for him, as he has grown over the years. Colby will always be the first to make sure new athletes feel welcome. , as he says (in his own words) "it can be scary, and sometimes you just need a friend to show you the ropes!".
He knows what it means to be a Special Olympics athlete - he knows that his responsibilities go beyond competing and training as an individual. He knows that it is about friendship, and building up those around you - and he takes this on wholeheartedly. Colby was asked to join Team Sask, and following, Team Canada. At the World Games in Abu Dhabi - Colby was highly successful, bringing home a number of medals. He was a great ambassador and representative for Canada, our province and Special Olympics in general.
Tia is respectful and supportive of her fellow teammates; she is overjoyed when another athlete achieves success. Tia continually encourages others to do their best, as others have encouraged her to do the same. Tia has an unprecedented sportsmanship attitude and makes a distinct effort to uphold a positive position within the sport community. 
Tia qualified to participate in the Special Olympics Saskatchewan Provincial Games, and from there was picked as an alternate for Nationals.
When her teammate could not participate, she had to learn how to swim longer distance races.  This all culminated in Tia being able to compete and medal in these races - Not only at Nationals - But also at the World Games in Abu Dhabi! Tia is a true role model for athletes that have intellectual disabilities. Simply put, Tia has inspired others to be champions and encourages her teammates to be the best they can.
Shining Star Award
Kolby Arlittt - Unity
Kolby is an active athlete in the Special Olympics Bowling,  Powerlifting and Bocce programs.  He attends practices regularly, even with the challenges of living 60+km away from the facilities where they are held.  Kolby is a positive influence in the group – greeting people by name and making everyone feel welcome and important. He is an engaging individual and often comes to practice with a new story or joke to tell.    
Kolby loves Special Olympics and the sporting opportunities it provides. This year Kolby ran his very own bake sale fundraiser for Special Olympics at his school. All the proceeds raised were shared with his fellow athletes toward programming. He is extremely proud of his Special Olympics accomplishments and family.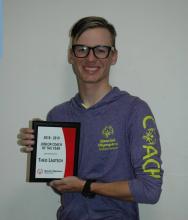 Junior Coach of the Year
Theo Lautsch - Swift Current
Theo not only coaches Curling, but he is also an active curler himself. He is able to work with the athletes and adapt his training methods to meet their particular skill level. Theo completed the Special Olympics Competition Coaching program and understands the importance of meeting the athletes at their level to give them confidence and a good feeling about the level they are competing at. He feels Special Olympics gives the athletes a voice in the community and always is willing to go above and beyond to make sure the athletes have a positive experience through sport.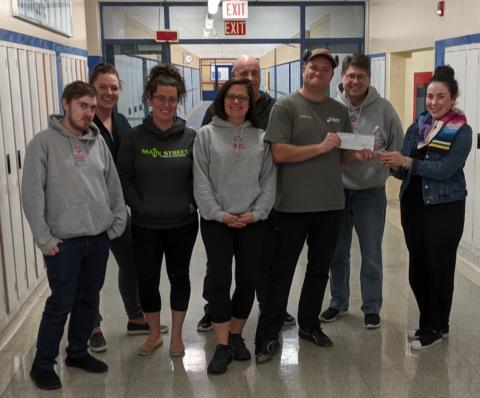 Community Excellence Award
Special Olympics Moose Jaw
Special Olympics Moose Jaw has seen tremendous growth over the course of the past year. Athlete and volunteer enrollments are up and they have developed a strong presence online, through their Social Media channels. They have done a tremendous job fundraising, both on a local and Provincial level.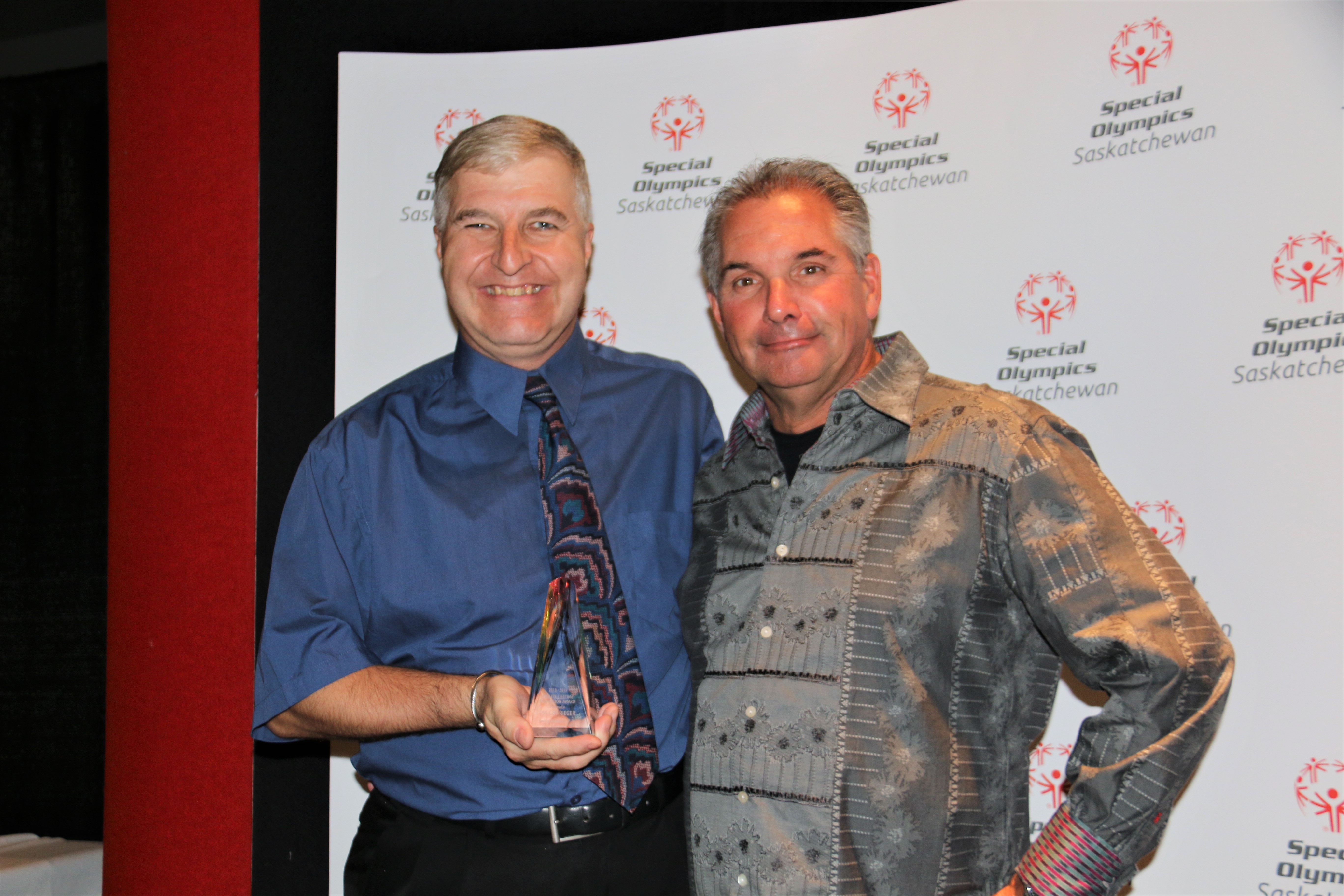 Athlete Dedication Award
Dwight Rieger - Regina
With almost 40 years of involvement with Special Olympics, Dwight has participated and competed in a multitude of different sports. Dwight participates/has participated in Bowling (5-Pin & 10-Pin), Floor Hockey, and Softball. For the past number of years, he has had a strong focus on training and competing with the SOR Regina Raiders Soccer Team. 
Dwight genuinely wants to see others succeed and will do whatever he can to help them reach their full potential. It's in this capacity that we have seen Dwight willingly take on a leadership role as a mature and experienced athlete and helps to coach and train his teammates. 
Many times Dwight has proven himself to be an unselfish competitor, as well as a prominent example of a well-rounded athlete. Dwight truly embodies the spirit of Special Olympics. Despite his success, Dwight remains a humble individual who holds true to his training and has an everlasting passion and respect for sport. Dwight has the Athlete's Oath memorized and lives by it wholeheartedly. Dwight bravely faces any challenge that is put before him and tackles it with grace and gusto. He consistently presents a high-standard in sportsmanship and athleticism and is a true role model for his fellow athletes.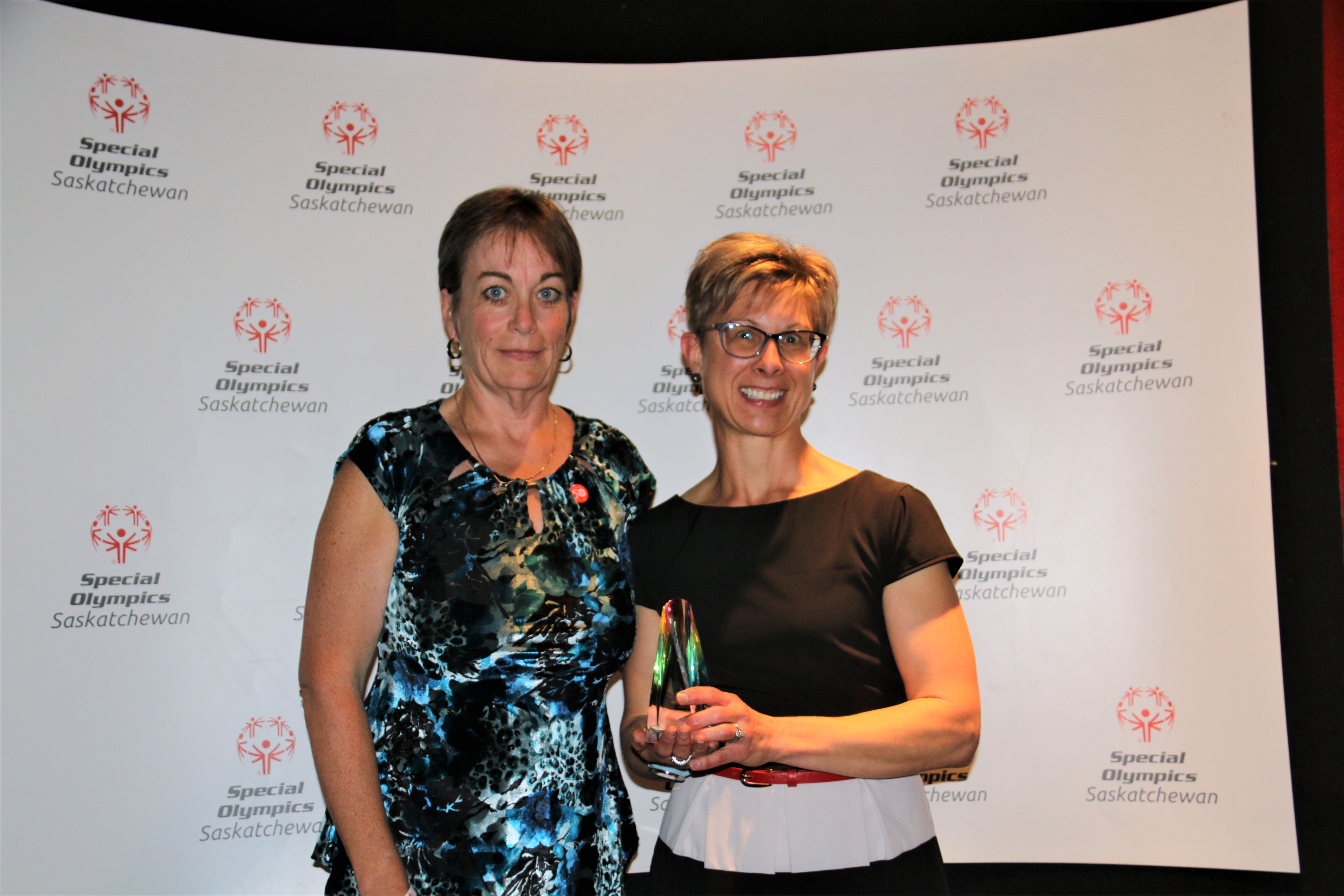 Bob Pedde Memorial Award
Shauna Hammer - Unity
Shauna enriches the lives of individuals with an intellectual disability through the sport of powerlifting setting up a training schedule that is very effective. This results in athletes having the opportunity to pursue their full potential. Her effective technique of coaching has generated two athletes that have broken Saskatchewan powerlifting records in a very short period of time. She has attracted more volunteers to Special Olympics from her dedication and enthusiasm through powerlifting and other SO community initiatives. Shauna's personality and knowledge, create an environment of respect, cooperation, collaboration, and dignity from all the athletes. We see all athletes turn to Shauna with no hesitation when needing help as she is always ready to take time for each athlete on a one to one basis.
President's Citation Award
motionball Saskatoon
motionball is a national not-for-profit organization whose mandate is to introduce the next generation of donors, volunteers and sponsors to the Special Olympics movement through integrated social and sporting events. Through motionball's signature events, funds and awareness are raised in support of Special Olympics Athletes.  The "No Good Way" campaign is delivered each year to promote inclusion and end the casual use of the R-word, that has stigmatized and degraded people with intellectual disabilities. The Saskatoon chapter of motionball led by Kim Davy & Keisha Sharp and their team of dedicated volunteers has raised $280,000 over the past six years through the ever-popular marathon of sport, adding to the Canadian Total of more than 10.5 million dollars raised for Special Olympics. We are so grateful to have these leaders who believe in our athletes and are incredible advocates for Special Olympics.