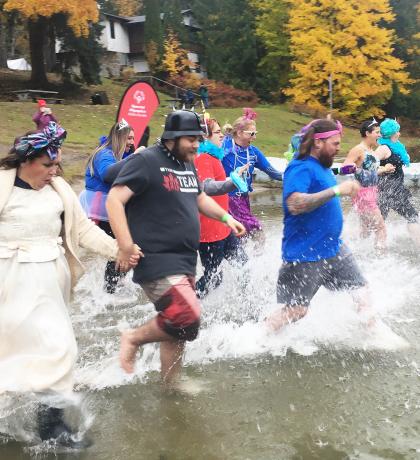 Revelstoke RCMP members and other brave Special Olympics BC supporters made a big splash on October 20, 2019!
The inaugural Revelstoke Polar Plunge for SOBC raised more than $6,000, with more than 20 people taking the icy dip into Williamson Lake. The event marked the first time Special Olympics BC supporters took the Plunge into freshwater.
"I would like to extend my sincere appreciation to everyone who helped promote and ensure our inaugural event was a huge success," Revelstoke RCMP Constable Josh McCann said to Global News.
Big thanks to Revelstoke RCMP members for organizing this frigid and fun Law Enforcement Torch Run for SOBC event. We are also grateful to all the volunteers, sponsors, and Plungers who helped make the Revelstoke Polar Plunge so successful.
Stay tuned for 2020 Revelstoke Polar Plunge announcements!