Donations are now being accepted!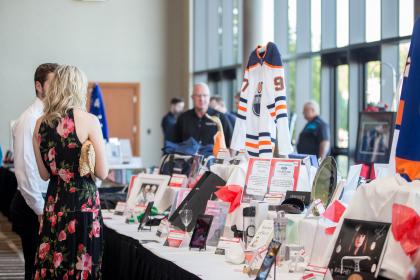 Due to the COVID-19 pandemic, the 2020 Enriching Lives Gala & Auction have been cancelled. Because it was a special anniversary year, we will be celebrating in person next year to mark this occasion.
THANK YOU to all our past Auction Donors for providing so many amazing auction items...we couldn't have done it without you!
THANK YOU for supporting Special Olympics PEI services and programs through your bidding at our past Enriching Lives Gala Auctions - this year we still need your support to continue providing quality programs to our membership. You Can Help by making a Donation today!
This year marks the 30th Anniversary of our Enriching Lives Gala & Auction, taking place on Tuesday, June 22nd, 2021 at the Delta Prince Edward by Marriott; At our Enriching Lives Gala we pride ourselves on offering exciting experiences for our guests. The event includes both a silent & live auction, so the possibilities are limitless
ENRICHING LIVES AUCTION
The Enriching Lives Gala includes both a Silent & Live Auction. These auctions are essential to the success of the event, accounting for over 38% of the total amount raised. Throughout the evening over 550 supporters, including our celebrity guests, will have the chance to bid on an exciting lineup of donated auction items.
Once again in 2021 we will be hosting our Enriching Lives Auction online, beginning two weeks before the Gala on our Enriching Lives Auction website and we suggest you browse the items and register prior to the event.
Donating an item to the Auction
The success of the auction is a direct result of the amazing support we continue to receive from businesses and the community by way of a wonderful line-up of auction items. All monies raised through the auction have a direct impact on the programs we offer across PEI.
We would love to add your item to our auction line-up early this year to create some excitement through our digital channels, which would translate into bidding and revenue generation, at our signature fundraising event. The opportunities for items to donate are endless with the silent, luxury items and live auction options.
Donations are now being accepted for both the Silent and Live Auctions.
Bidding on Auction Items:
Again this year we we have partnered with Givergy to host our Silent Auction online. You will be able to bid on your desktop and mobile phone starting 2 weeks prior to the event, on Tuesday, June 8, 2021 on our custom URL www.EnrichingLivesAuction.ca
Do I need to attend the Enriching Lives Gala to participate in the Auction?
Although we highly recommend you consider purchasing tickets to our signature fundraising event to experience the excitement and energy of this special event!
No—You do not need to attend the Enriching Lives Gala to bid on items in our Silent Auction. We would encourage you to share this information, and Auction link, with those in your network once it goes live on June 9th. You can start your bidding early on your favourites.Once the Gala begins mobile bidding will continue, along with bidding on-site using provided tablets.
The Silent Auction closes at 9:20pm (AST) on Tuesday, June 22nd.
What about the live Auction?
Some of our Live Auction items will be available for preview on the our auction site once it is live, so a great opportunity to get a group together for some of the one of a kind experiences!
Bidding on our Live Auction items will take place with a live auctioneer starting at 9:20pm onsite at the Gala.
Proxy bids will be accepted from those unable to attend.
Proxy bids must be emailed to sopei@sopei.com before 4pm (AST) on Monday, June 21st, 2021 (must include full name, phone number and email).
More Questions?
If you have questions about the Enriching Lives Auction please contact Special Olympics PEI, either via email at SpecialOlympicsGala@sopei.com or by calling 902-368-8919