Oliver's Story
The idea of Oliver's birthday party being hosted at a Police station was mentioned to our staff through casual discussion with his mom about his  "Make a Wish" Foundation idea to be a Police officer for a day. This is the story from a police officer's perspective of how that special day for Oliver and our LETR members unfolded.  
 
Police Officer for the Day, Promoted to Chief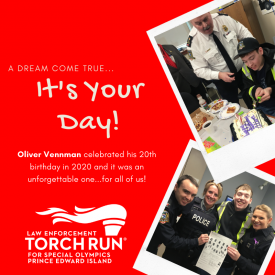 Oliver's day started off with myself, Cst. Kristi MacKay, Charlottetown Police Services and cousin, Cst. Louanne McQuaid, RCMP, taking selfies with her dog, Victor Carter enroute to pick-up Oliver. I have been involved with Law Enforcement Torch Run (LETR) for over 8 years. This was one of the first events for Lou but nothing would prepare either of us for how a special day for one, could turn into a lifetime of memories for us all. We arrived into Summerside at Oliver's work where he was surrounded by all his friends and they all wished him goodbye and a quick "Happy Birthday, buddy!"
When we got into the car Victor (the dog) was also quick to give birthday kisses, to now 20 year old Oliver. We then drove to Summerside Police Services where a celebration was planned. Oliver used his police skills to handcuff himself to me, to walk in.  As we were walking in, Oliver joked with a flirtatious laugh that I was his runaway bride. This set the tone for what would be a day that no one would ever forget.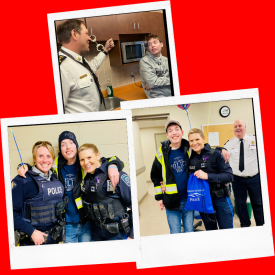 Many hands went into making this a memorable and special day. Oliver was fingerprinted, given a tour of the police station, used the handheld radar gun, and explored a police vehicle, and a police K9 dog came in to give a demonstration. Oliver was surprised to have 5 of his best friends waiting for him to enjoy pizza donated by Michael's Pizzeria and cake. Oliver, being the quick wit personality he is, promoted himself to Chief, for the day. His first order of business was as a joking gesture to give people up to a week off as a perk of his new promotion.
Oliver was given patches, hats, badges, epaulettes and other memorabilia from all the representing police agencies as a small token to signify his special birthday. He was also presented with a plaque from the Canadian Association of Chiefs of Police to make him an honorary member.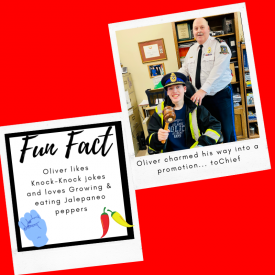 Oliver brought both the Chief of Summerside and the Commanding Officer of the RCMP to attention to give a final inspection as his last order of business before leaving for the day. We then attended the Atlantic Police Academy where he was given a tour and was able to see how potential officers are trained.
We drove Oliver back to work after a full day of events. He suggested after a long day that Victor should take a bath because he smelled like a wet dog. Oliver was astute in his delivering one liners that left us all in stiches. When we arrived back with Oliver, his friends were all so happy for him but were quick to point out when their own birthdays were (as a hint).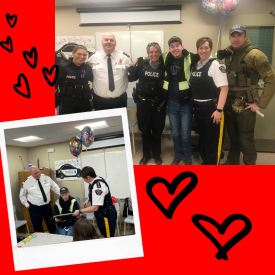 This may have been Oliver's day, but what Oliver doesn't know is that we all celebrated our 20th birthday all over again with how special he made HIS day for US.
-Cst. Kristi MacKay, Charlottetown Police Services & School Resource Officer, Charlottetown Rural High School
Oliver has been part of the Special Olympics PEI community for about 5 years. He participates in 5 pin bowling and Basketball. His biggest highlight is winning the Dr. Frank Hayden award at the 2018 SOPEI Awards.
Oliver has been a reliable participant and fundraiser for both of our annual events – Truck Convoy and Polar Plunge. We can count on him to always come with one of his police badges or clothing that he has collected over the years. He loves to work with the law enforcement to help them keep people protected and safe.