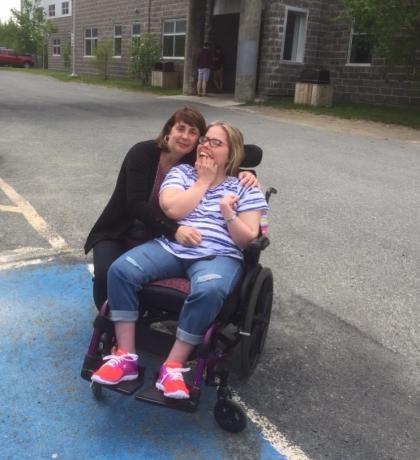 We want to honour people from across the country who respect and embrace all abilities every day of the year!

A Champion of Inclusion can be:
• From sports (an athlete, coach, volunteer)
• From the workplace (a boss, or co-worker)
• From school (a teacher, volunteer, student, Principal)
• From Health (a doctor, nurse, caregiver)
• From the Government
• From your community (a friend, neighbour, family member, activist, supporter)
• Anyone!
The Pottle Family nominated Sandra Hemmings, a teacher at Queen Elizabeth Regional High School. Brooke was her student for 5 years and it was the best five years of Brooke's school years. Sandra taught Brooke many things that she was told she could never do: from reading a story on her iPad using a switch, cooking with her class to staying overnight to earn her gold Duke of Edinburgh. Sandra is always inclusive with all her students, she adjusts her class so all students are capable of participating in all teaching and activities. Brooke was a challenge but one that Sandra accepted with pride. Brooke is non-verbal, but her mom was lucky enough to witness a conversation between Sandra and Brooke which was very touching. Brooke may not have been using speech, but they understood each other fully.

The Pottle Family believes that Queen Elizabeth Regional High School is very lucky to have such a wonderful teacher, a true Champion of Inclusion, at their school. Two years after Brooke completed high school, Sandra still keeps in touch to see how Brooke is doing.