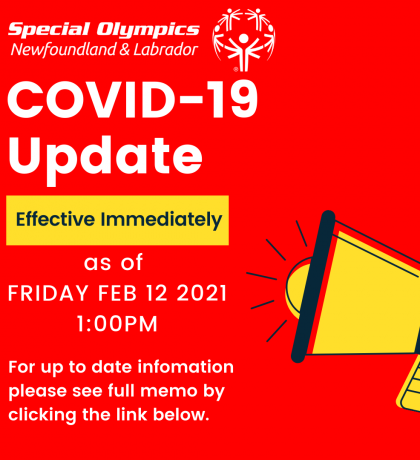 memorandum issued
DATE: February 12, 2021 1:00PM
TO: All Community Clubs and Stakeholders
FROM: Program Director, Kim McDonald-Wilkes
Please be advised that due to the Public Advisory issued Thursday February 11th, 2021 by Dr. Fitzgerald, Chief Medical Officer of Health during the Government of Newfoundland and Labrador COVID-19 Update -
Some Sport Programs with the Mt. Pearl and St. John's Explorers Community Clubs, have been issued an Isolation Protocol - Effective Immediately -see memo dated Feb 12 1:00PM
To date there are no known positive cases of COVID-19 associated with Special Olympics NL.
We want to thank both the Mt. Pearl and St. John's Explorers Community Clubs for their cooperation and quick response during this quickly changing and stressful time.
As the situation is rapidly changing we want to assure you all that Special Olympics NL is in constant contact with Public Health through Sport NL and are following all Public Health Advisories issued. Rest assured we, at SONL, are doing everything we can to communicate the most up to date information as swiftly and efficiently as possible to you all.
We also want to take this opportunity to remind ALL CLUBS that had in-person programs up and running to please ensure your attendance tracking records are complete and up to date and if in communication with your members for any reason to reiterate the importance of being kind and staying calm during this time.
As always we are here to support you in any way we can, do not hesitate to reach out.
Trish Williams, Executive Director trishw@sonl.ca 1-709-690-8335
Kim McDonald-Wilkes, Program Director kimm@sonl.ca 1-709-293-1444
Kim McDonald-Wilkes (She/Her)
Program Director
Special Olympics Newfoundland & Labrador