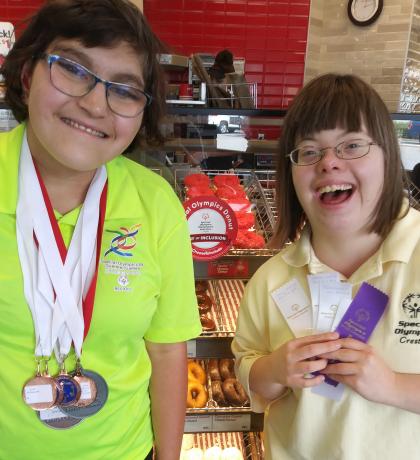 An important sponsor of Special Olympics Canada, Tim Hortons helps promote respect and inclusion in communities across the country.
Tim Hortons has supported the Global Day of Inclusion for two years, raising significant awareness and funds for Special Olympics programs all around Canada. Their nationwide efforts help empower Canadians with intellectual disabilities to experience sports, fitness, and friendship and change attitudes through year-round Special Olympics sport programs.
On the 2019 Global Day of Inclusion, Tim Hortons guests from all over the country raised a record $150,000 for Special Olympics athletes by purchasing a limited-edition donut, with 100 per cent of proceeds going to Special Olympics across Canada.
"We want to thank our guests and restaurant owners who came out in record numbers to support Global Day of Inclusion this year," Tim Hortons President Alex Macedo said. "We were able to raise a record amount for Special Olympics across Canada so they can continue their mission to empower children, youth and adults through the power of sport."
The 2019 Tim Hortons Special Olympics donut was created by 26-year-old Ontario athlete Tori Ranson. "Through Special Olympics I have made lots of friends over the last 12 years. I was excited to see people eating my donut – I'm glad they liked it and that we raised lots of money for Special Olympics Canada," Ranson said.
Many communities across B.C. reported that their local Tim Hortons staff and managers really rolled out the welcome mat to celebrate and involve the athletes. With the strong support of local Tim Hortons managers, Special Olympics BC – Sunshine Coast created such a fun and engaging presence in their stores that customers asked if there was a party going on!
"We believe that opportunities for athletes to engage with members of our community help improve understanding, tolerance and positive attitudes," PR Coordinator Helen Halet wrote. "We reached out to the Tim Hortons' branches in Sechelt and Gibsons and received an enthusiastic response from both owners and managers. They were willing to host our athletes and provide space to set up our posters and banners. They also ensured that supplies were on hand to make the special donut designed by athlete Tori Ranson."
Tim Hortons consistently serves up support for Special Olympics initiatives in B.C. They provide SOBC with gift cards that help fuel our programs, fundraisers, and day-to-day operations. They also provide Special Olympics BC supporters with delicious beverages at events such as the Newmont Goldcorp Invitational Golf Tournament, Revelstoke Polar Plunge for SOBC, and Vancouver Polar Plunge for SOBC.
Very grateful to Tim Hortons for being a champion of inclusion and generous supporter of Special Olympics!