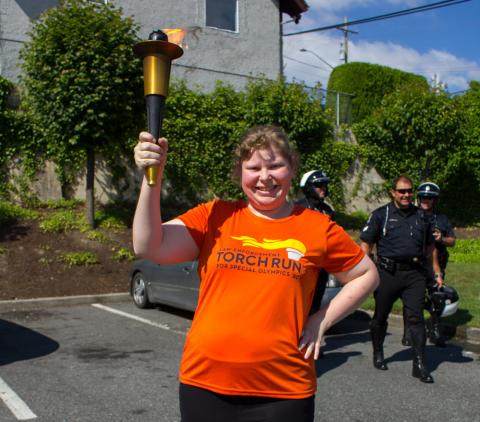 You can easily set up Strava on a variety of devices so you can record your kilometres for the Virtual Law Enforcement Torch Run for Special Olympics BC. If you do not have a device you can use while running/walking, you can also upload your distance manually.
You can scroll down to see videos on how to set up Strava and record walks/runs.

Step 1: Register for a Strava Account
Go to www.strava.com.
Register for an account using your email address or Facebook account.
Create your profile – there are many fields you can fill out to customize your profile, but only your name and age are required. 
You do not need to start a free trial of Strava Summit for this event. You do not need to provide any credit card details.
If you will record your distance on a smartphone, download the app to your device.  
If you will record your distance on a smartwatch or training watch, connect your device to your Strava account.
 
Step 2: Join the BC Law Enforcement Torch Run club on Strava
Hover over the "Explore" tab at the top of the page and select "Clubs" from the drop-down menu.
On the next page, you can search for clubs by name, location, sport, and type of club.
Search for "BC Law Enforcement Torch Run" and select the club. 
Select "Request to Join."
 
Step 3: Record your activity
Using the Strava phone app
Go to the record screen by tapping the circular "Record" icon located in the middle of the dashboard. Strava will automatically record the activity type set in your profile (ride or run), but you can change this by tapping the shoe icon above the "Start" button. 
Make sure the app records your activities as runs (even if you are walking) so your kilometres will count to the event total. 
To begin recording, simply tap the "Start" button, which is located near the bottom of the screen.
Tap the square, "Stop" icon to pause your activity. You'll then have the option to either "Resume" your activity or "Finish." 
Pressing the "Finish" button will take you to the "Save Activity" screen.
Tap "Save Activity" to upload to Strava.
Your activity will appear on the "Feed" screen immediately, and you'll be able to view full activity details after the app is done syncing.
 
Using your smartwatch or fitness tracker
Uploading without a device
App data usage
When using your phone, you do not need to use data unless you're viewing maps or have "Live Segments" or "Beacon" turned on. Otherwise, the app just uses GPS while it records your activity. Once you've finished recording, the app will need to transfer some data to sync the activity with the Strava servers. That's typically about 1 MB for two hours of recording, but this can vary a bit. There will also be a very small amount of data required to update your "Feed." Please note, if you can connect to Wi-Fi, you can sync the activity without using any data.
Videos
 
Download and set up Strava account with your phone
Set up Strava account with your computer
Record a run/walk with your phone
Record a run/walk with your computer
Further questions
If you have further questions about using Strava for the 2020 Virtual Torch Run, please contact Charlotte Taylor at ctaylor@specialolympics.bc.ca or 604-737-3056.