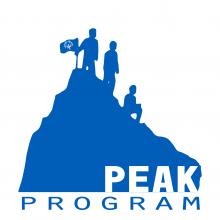 PEAK (Provincial Exercise and Activity Knockout) Program is set to return for eight-weeks starting January 25, 2021. Every Monday, Tuesday and Wednesday night from 7-8 p.m. MT, PEAK members will have the opportunity to attend up to four virtual sessions for your body, your mind, and your health.  
Along with weekly virtual sessions athletes will be challenged to hit their fitness goals, complete their BINGO card, participate in bonus sessions from Zumba to yoga, and a variety of fun activities like virtual dances! 
Sign up for PEAK on our new website here. (If you have a team within your affiliate that would like to join, please send an email to PEAKprogram@specialolympics.ab.ca) 
Go to this link and ask to join the PEAK Facebook group to access the workouts. https://www.facebook.com/groups/soapeakprogram 
By Sunday every week athletes can track their progress and climb to the PEAK here, those that enter regularly will be entered into prize draws.  
Every week a new BINGO card with activities can be printed out. Each week the new BINGO cards will be posted here. 
Every Monday, Tuesday, and Wednesday (also some Thursdays too) go to our Facebook PEAK page at 7:00pm for live sessions, sessions that are to be hosted on zoom will be advertised in advance. You can also find out each weeks activities and updates here.
All sessions, outside of our bonus days will be shared on our YouTube channel within a day of the event, so subscribe now to replay your favourites. 
Further information can be found at  https://www1.specialolympics.ab.ca/peak-program/. 
Two training sessions will be held on January 20th to guide individuals through all aspects of the website and to help with registration. Register for whatever time works best for you:
Staying connected is one of the core components of the PEAK Program and, to do so, we are asking athletes to sign up for our Healthy @ Home newsletter. The newsletter is released every Monday and will be your go-to source for information, virtual session announcements, and all the activities planned for the PEAK Program for that week. 
Subscribe here: https://mailchi.mp/specialolympics.ab.ca/healthyathome
Resources: